Haverhill, MA  – Using all thermoelectrically cooled photodiode arrays and custom heating and cooling management features, the SR-6500A spectroradiometer is built specifically for high performance that demands unsurpassed drift stability. The SR-6500A features:
Drift stability of ≤0.4% which delivers greater accuracy for long-term stability applications
Stability is achieved through heating and cooling thermal management features
A temperature controller maintains the instrument at a stable temperature along with individually temperature stabilized detector arrays
All temperatures are integrated into our DARWin SP Data Acquisition software readout for monitoring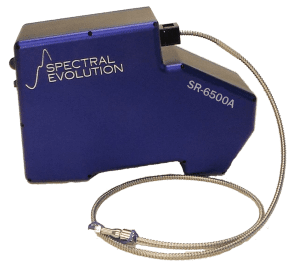 The SR-6500A delivers the highest resolution available in a portable spectroradiometer:
1.5nm @ 700nm
3.0nm @ 1500nm
3.8nm @ 2100nm
The SR-6500A also delivers high sensitivity with Noise Equivalence Radiance (NER) performance with a 1.5 meter fiber optic at:
0.8 x 10-9 W/cm2/nm/sr @ 400nm
0.3 x 10-9 W/cm2/nm/sr @ 1500nm
5.8 x 10-9 W/cm2/nm/sr @ 2100nm
For more information on the SR-6500A, visit: https://spectralevolution.com/products/hardware/field-portable-spectroradiometers-for-remote-sensing/sr-6500/
About SPECTRAL EVOLUTION
Established in 2004, SPECTRAL EVOLUTION is a leading manufacturer of laboratory and handheld portable spectrometers, spectroradiometers and spectrophotometers.  SPECTRAL EVOLUTION spectrometers are used worldwide for many mission-critical lab and field applications in mining, remote sensing, vegetative studies, ground truthing, environmental and climate studies, developing satellite calibrations, and more, due to their reliable, robust, rugged design and user-friendly one-touch features.