Haverhill, MAÂ  " The SPECTRAL EVOLUTION RS-8800 field spectroradiometer now works with a wide range of our accessories for in situ measurements for remote sensing applications.
 The RS-8800 is uniquely equipped with SPECTRAL EVOLUTION'S Sensaprobe™ grip which features a tilt angle sensor, auto-rangefinder and camera to automatically photograph and record field of view of scanned image displayed on your personal cell phone. This unique capability provides researchers with a convenient way to see exactly what they are measuring.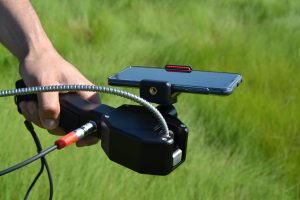 In addition to the Sensaprobe grip, the RS-8800 can be easily interchanged with other SPECTRAL EVOLUTION accessories for all remote sensing applications, including:Â 10mm and 3mm contact probes, benchtop probe with a compactor, premium and standard pistol grips, FOV lenses, unique leaf clip, and our portable four inch reflectance/transmittance sphere.
The RS-8800 field spectroradiometer is a full range (350-2500nm) high resolution/high sensitivity system including an Internet of Things (IoT) operating system that allows you to operate the system by iPhone, Android device, or tablet.
 The RS-8800 uses its IoT operating system to control our accessories so that any user can get consistent scans. The IoT uses a WiFi network accessed by an Android device, iPhone or tablet for controlling the system and downloading data stored on the instrument.
 The RS-8800 runs on lithium-ion batteries for a full day of scanning. The instrument is equipped with a custom backpack for field use.
The RS-8800 features:
350-2500nm range
Three photodiode arrays: 512 element silicon detector; 256 element TE-cooled InGaAs detector; 256 element TE-cooled extended InGaAs detector
Spectral resolution:

2.8nm @ 700nm
8nm @ 1500nm
6nm @ 2100nm
 The 3mm Miniprobe allows you to focus on small features of your sample for analysis. The 10mm contact probe provides a broader scan area. The benchtop probe is ideal for measuring powders and crushed samples with a compactor that provides for a flat surface for scanning. These probes are well suited for both vegetation and soil analysis. Our two pistol grips offer stable, ergonomically designed accessories for holding a fiber optic that provide increased comfort in handling and accuracy of measurement. FOV lenses are available in 1, 2, 3, 4, 5, 8 and 10°. Our unique leaf clip includes illumination that keeps heat away from your sample during measurement. The four inch sphere offers reflectance and transmittance measurements in a portable design that you can take into the field.
 For more information on the RS-8800, visit:
https://spectralevolution.com/products/hardware/field-portable-spectroradiometers-for-remote-sensing/rs-8800-remote-sensing-bundle/
About SPECTRAL EVOLUTION
Established in 2004, SPECTRAL EVOLUTION is a leading manufacturer of laboratory and handheld portable spectrometers and spectroradiometers.  SPECTRAL EVOLUTION spectrometers are used worldwide for many mission-critical lab and field applications in mining, remote sensing, vegetative studies, ground truthing, environmental and climate studies, developing satellite calibrations, and more, due to their reliable, robust, rugged design and user-friendly one-touch features. 
SPECTRAL EVOLUTION maintains a facility in Haverhill, Massachusetts which houses design, prototyping, manufacturing and service facilities for the instruments that it markets and sells worldwide, either through direct sales, OEM sales or through distributor agents.