PointFuse software which enables the fast, easy creation of intelligent mesh models of any environment from point cloud data has extended its product portfolio in tandem with the latest release going live, version 2020.02.
 
Available immediately following research with current customers, a new version of the software has been created called PointFuse Pro.  Users can now choose between PointFuse Standard, and PointFuse Pro. The key difference between the two is that PointFuse Pro includes the full functionality of the Space Creator module enabling users to deliver Scan-2-Plan and Scan-2-BIM projects with ease. Whilst Space Creator was previously a feature of PointFuse, in PointFuse Pro users now get unlimited exports meaning they can output any number of projects of any size. Thus, providing full scalability and transparency of project costs.
 
PointFuse Standard will continue to provide users with unique meshing and classification functionality they value from PointFuse at a lower price point to PointFuse Pro. Users will still have the ability to import any point cloud and to convert these data sets into intelligent mesh models, that can dramatically reduce the size of the working data by a factor of up to 100, facilitating numerous project stakeholders to share and work concurrently on projects. PointFuse continues to ensure that 'ease of use' is at the heart of the software, which can reduce time to delivery by around 70 %. For companies where multiple users work on PointFuse, the license option 'Teams' is available across both versions of the software, providing further cost efficiencies to these organisations.
 
PointFuse Powered by Jetstream, the version of the software developed in partnership with Leica Geosystems, will also mirror this update with the release of Standard and Pro versions immediately.  
 
In this latest release, users will also benefit from a more streamlined classification process, with the addition of a number of simple and intuitive tools.
 
"We are excited about this new release" said Mark Senior, Director at PointFuse. "we have seen so many times the value that PointFuse can and is delivering to organisations across many different workflows. We are delighted to be able to simplify the product offering so that there is no limit on exports, and to provide the flexibility our users need in delivering their projects."
 
"Listening to our customers is important to us" continues Mark, "as this ensures the software evolves in a direction that meets both current and future requirements."
 
 Anyone that would like to sign up for a free 15 trial of the software will get a trial version of the Pro version so that they can try out all workflow functionality before deciding which is the most relevant version for them. To register for a free trial simple visit www.pointfuse.com/freetrial and create an account,  no credit card details are required for this.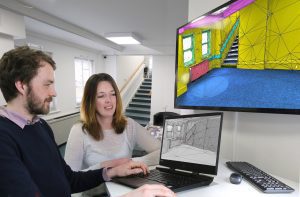 About PointFuse
PointFuse bridges the gap between reality capture and digital construction. It automatically converts point cloud data from laser scanners or photogrammetry into intelligent as-built mesh models that can be classified and used in any industry BIM, CAD or CAFM system.
 
PointFuse has been designed with a focus on ease of use, resulting in a deskilling and streamlining of workflows, which also contributes to a reduction in project overheads.  Whether producing visualizations for stakeholder engagement, running coordination against as-built conditions or producing LOD200 BIM for space and facility management, PointFuse flexible toolset reduces time to delivery by around 70% compared to existing workflows.
 
PointFuse is unique in automatically segmenting the mesh into discrete, selectable surfaces, by identifying objects based on their geometry and assigning unique identifiers to them. Removing the human aspect of the modelling process eliminates a significant bottleneck, while also removing any chance of subjectivity, producing consistent, accurate results. This makes PointFuse models repeatable and directly comparable – ideal characteristics for accurate project validation. 
 
These models, which are highly optimized, reduce the size of working data by a factor of up to 100. This ensures that the ongoing use of the model is accessible for all working on the project, across most devices.
 
Visit http://pointfuse.com