To support higher education, businesses, major event locations and others with Virtual Tours, Concept3D is opening up its Enterprise Level 360° Tour system through June 30, 2020, with clients able to add up to five tour stops and use the advanced features of the Enterprise system at no charge.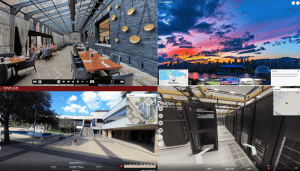 The 360° Tour System is a fast and effective tool to build, manage and share virtual tours. The system supports the use of both 360-degree panorama and standard images for tour stops. By using 360-degree images, tours are automatically set up for viewing in Virtual Reality mode for those with the necessary hardware. 
To support those interested in setting up a 360° Tour, Concept3D is hosting a webinar on Tuesday March 24 at 11:30AM ET/8:30AM PT to demo the set-up, offer support resources, and answer questions. http://www.concept3d.com/360-tour-march-2020-webinar/ 
Creating a 360° Tour takes less than 30 minutes: simply create an account and use the intuitive CMS to upload 360-degree panorama or static images and assign a location by entering an address or dropping a pin on the accompanying map. The system then guides the user through the process of adding information, more images, video and audio tracks to tour stops. 
Once the tour is built and published, it can be edited and shared via link, and the system provides an in-window "minimap" for easy navigation, jumping between stops, and to highlight the specific geographic location of the tour.
"We're proud to have served the higher education market for over a decade, and we know higher education is getting hit hard because students and parents can't travel for campus visits right now and potentially for months ahead. Likewise, convention centers, healthcare and all of the businesses we serve are also facing serious challenges. We know a virtual tour isn't the same as an in-person visit, especially for the families who planned to visit multiple colleges together and make the best choice, but we wanted to offer what we can to help," said Gordon Boyes, CEO, Concept3D. "With people at home and online, a virtual tour is as close to an in-person visit as possible, and we wanted to make this accessible to anyone who needs it."
Learn more and get started here: http://www.concept3d.com/360-tour-march-2020/ 
About Concept3D
Founded in 2006, Concept3D is a leader in creating immersive online experiences with 3D modeling, interactive maps and VR-enabled virtual tour software. Concept3D software brings any physical location into an intuitive and navigable digital format, providing clients with a powerful competitive edge through applications like data visualization, wayfinding, immersive VR-enabled virtual tours, and real-time platform-wide updates. Concept3D clients include convention centers and event spaces, data centers, healthcare and retirement facilities, large commercial sites, resorts, hotels and theme parks, as well as universities and many other locations. Concept3D's higher education system was formerly known as CampusBird. Learn more at https://www.concept3D.com.