HONOLULU — Woolpert and Optimal GEO were presented with the MAPPS Award for Data Acquisition & Processing and the MAPPS Grand Award for their "Hurricane Maria: Rapid-Response Lidar Collection" project at the organization's 13th annual Geospatial Excellence Awards, held last week in Honolulu. The project was performed by WMR-532, the joint venture of Woolpert and Optimal GEO, in support of the U.S. Army Corps of Engineers (USACE) and the Joint Airborne Lidar Bathymetry Technical Center of Expertise (JALBTCX).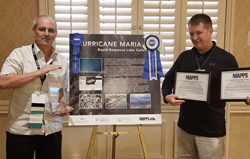 For this project, WMR-532 collected topographic and bathymetric lidar, digital imagery and hyperspectral imagery data along the Puerto Rico coastline after Hurricane Maria hit the island in September 2017. The perishable data and imagery helped local, state and federal decision-makers assess immediate post-storm damage to aid in response, recovery and resilience efforts, and to help the island better prepare for and mitigate the impact of future storms.
Woolpert Geospatial Program Director Mike Meiser and Optimal GEO Chief Operating Officer Mark Brooks accepted the award on behalf of the firms.
"Woolpert and Optimal GEO are honored to support the great work of the USACE and JALBTCX by collecting this data, which has proved to be an invaluable tool in preparing for and recovering from natural disasters such as this," Meiser said.
MAPPS is an organization of more than 100 private-sector firms that have thought leaders in geospatial fields that include mapping, surveying, photogrammetry, remote sensing, hydrography, and GPS and GIS data collection.
"The Hurricane Maria project was successful due to the combined efforts and capabilities of Woolpert and Optimal GEO in collaboration with JALBTCX personnel on the ground in Puerto Rico," Brooks said. "We're pleased that MAPPS recognized the entire team with the Grand Award."
About Woolpert
Woolpert is committed to a vision to become the premier architecture, engineering and geospatial (AEG) firm, and one of the best companies in the country. It's a vision we've been fine-tuning for decades. It guides our decisions and investments, provides our clients with optimal solutions and offers our employees unrivaled opportunities. Woolpert is recognized as a Great Place to Work by its employees and is America's fastest growing AEG firm. With more than a century of experience, close to 1,000 employees and 30 offices, Woolpert supports public, private, federal, and U.S. military clients nationally and around the globe. For more information, visit woolpert.com and connect with us on LinkedIn, Twitter and Facebook.
About Optimal GEO
Optimal GEO is a small business geospatial firm that specializes in executing a full range of geospatial services including Photogrammetric Mapping, Orthoimagery, Lidar, GIS, and GEOINT. Our team is well versed and has a long history in providing these services to the defense and intelligence communities. As a passionate and exceedingly capable small business, we stand together with our clients from the development of their goals, through technical project execution and identification of future geospatial strategies. Having an in-depth knowledge of a broad range of geospatial data, products and services affords Optimal GEO the ability to communicate and implement solutions with an understanding of the interoperability and opportunities today's geospatial marketplace affords. From the collection of Lidar to produce highly accurate topographic and bathymetric data to the design and development of mobile GIS and web apps we are dedicated to advancing your geospatial program. Optimal GEO provides expert guidance in geospatial solutions that put the needs of the end user up front while saving clients time and money through the streamlining of resources. Optimal GEO's clients include federal and state government entities including the United States Department of Defense. For more information, visit optimalgeo.com or call 256-882-7788