— Royal Society of Chemistry to host exclusive Mars landing event in partnership with the UK Space Agency and TikTok —
TikTok could be streaming from the surface of Mars for the first time as NASA, the UK Space Agency and the Royal Society of Chemistry team up to livestream the Perseverance Rover's descent to the Red Planet tomorrow.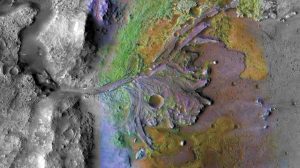 From 8.15pm GMT on Thursday, 18 February, live footage from the landing will be broadcast from the @RoyalSocietyofChemistry TikTok account, bringing footage direct from NASA to mobile phones across the world.
As well as leading the search for alien life on the planet, Perseverance will test out a new instrument, Moxie, which aims to convert the Martian air into oxygen.
Describing the action for the Royal Society of Chemistry will be Ellie Sleightholm, alumni of the UK Space Agency's SPINtern programme. She will be joined by popular TikTok science creator, Max Tobin – better known on the platform as @MinistryofScience.
Sarah Robertson, Director of Education & Professional Practice at the Royal Society of Chemistry, said: "Perseverance represents the next big step in the search for life in our solar system and the chemical science tools on board this incredible vehicle will be absolutely central to the search for extra-terrestrial life, past or present.
"In hosting this event with TikTok and the UK Space Agency, we are putting space exploration right at the heart of this lively and imaginative TikTok community. In the process we aim to bust the myth that careers in space are only reserved for those with an interest in physics or engineering, and inspire a new generation of astro-chemists, astronauts or even amateur stargazers to discover more about our universe."
The Perseverance is the most sophisticated rover NASA has ever sent to Mars and has been designed to search for signs of ancient microbial life, while helping us to characterise the planet's geology and climate and pave the way for human exploration beyond the Moon.
As well as being able to analyse the Martian surface and air, Perseverance is the first rover to bring a sample caching system to Mars that will package promising rock and soil samples from the surface of the planet for return to Earth by a future mission. The return mission is unlikely to take place until the early 2030s, and will allow scientists to use larger, more sophisticated instrumentation to analyse the samples here on earth than they could fit into a rover.
Co-host Max Tobin added: "This is an incredibly exciting moment for anyone interested in science, space or even just curious about the universe around us. Hopefully, we'll soon know if our nearest planet was once home to alien life – and maybe even what it looked like."
Kathie Bowden, Point of Contact – Skills and Careers at the UK Space Agency, said: "During her time on our 2020 Space Placements and Industry Scheme, Ellie showed she has a passion for space.
"Over the next ten years, 30,000 more space sector jobs will be created, and we need skilled young people to be applying for these roles. I'm sure Ellie's enthusiasm will inspire others to follow in her footsteps and discover opportunities the space industry offers." 
Edel Flood, Media Partnerships Manager at TikTok, said: "Our community come to TikTok not just for entertainment, but increasingly to learn something new, from quick recipes to science facts; this LIVE event will be an exciting addition to our #LearnOnTikTok programme. TikTok users will be able to listen to and engage with Ellie and Max as the rover descends – experiencing in real-time what it's like to land a rover on Mars through NASA's inspiring live footage."
TikTok is the leading destination for short-form mobile video, with 100m monthly active users across Europe
During the livestream, hosts Ellie and Max will describe the mission live, talk through the importance of the information it will gather on Mars' geology and climate, and answer questions from viewers as Perseverance prepares to land on Mars.
Ellie will also be sharing details of her experience as a SPINtern, including her top tips for young people aspiring to pursue a career in space.
Follow the Royal Society of Chemistry on TikTok to watch the Live event and see more videos on the mission: @RoyalSocietyofChemistry 
To view the UK Space Agency's video about the mission which aims to inspire the next generation to pursue a career in the space industry, please visit: stem.org.uk/mars  
Issued by Weber Shandwick on behalf of the Royal Society of Chemistry
For further information and to discuss interview opportunities please contact:
Steven Flanagan 0141 343 3250/ 07557 210 989/ sflanagan@webershandwick.com
Laura McLean 0141 343 3259/ 07583 078292/ LMclean@webershandwick.com
About the Royal Society of Chemistry
We are an international organisation connecting chemical scientists with each other, with other scientists, and with society as a whole. Founded in 1841 and based in London, UK, we have an international membership of over 50,000. We use the surplus from our global publishing and knowledge business to give thousands of chemical scientists the support and resources required to make vital advances in chemical knowledge. We develop, recognise and celebrate professional capabilities, and we bring people together to spark new ideas and new partnerships. We support teachers to inspire future generations of scientists, and we speak up to influence the people making decisions that affect us all. We are a catalyst for the chemistry that enriches our world.
About TikTok
TikTok is the leading destination for short-form mobile video. Our mission is to inspire creativity and bring joy. TikTok has global offices including Los Angeles, Silicon Valley, New York, London, Paris, Berlin, Dubai, Mumbai, Singapore, Jakarta, Seoul, and Tokyo. www.tiktok.com