WASHINGTON, D.C.  " ANRA Technologies, a leader in UAS Traffic Management (UTM), today announced the release of ANRA MissionManagerâ"¢. Building upon years of experience developing and deploying its drone operations software platform, MissionManager is the only turnkey drone operations solution that integrates fleet management, compliance, risk mitigation, flight automation, data capture, and analysis into a single platform. This latest release also introduces features specifically developed for energy, telecom, and construction industries.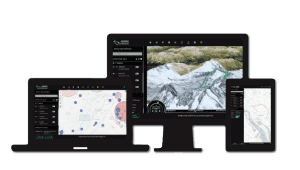 ANRA MissionManager is part of a family of highly adaptable and scalable drone operation platforms, specifically designed to adjust to rapidly evolving regulatory environments. The secure cloud-based platform manages pilots and assets anywhere globally, enabling seamless workflow coordination from the corporate office to the job site. With increased confidence and lower risk, drone program managers will be assured that permitted operations are flown using qualified personnel flying approved equipment for assigned tasks. The platform supports extensive flight automation, including integration into the ANRA SmartSkiesâ"¢ UTM platform for beyond visual line-of-sight (BVLOS)  operations. 
ANRA Technologies adheres to the most stringent security standards for all its products and services, including MissionManager. The platform offers sign-on (SSO), two-factor authentication (2FA), and multi-factor authentication (MFA) for account access with real-time network traffic and infrastructure monitoring, incident reporting, with localized cloud storage and backup encrypted in AWS, Azure, or Google Cloud. All wireless and network data transmissions are encrypted in TLS 1.2 or higher, while live video streams are secured in line with leading industry practices. 
The MissionManager user interface was designed based on early customer feedback, to make it easier for pilots and managers to navigate and operate the platform and customize data processing capabilities.
MissionManager is an end-to-end drone-agnostic platform for managing live flight automation, assets, pilots and data, at scale, said Amit Ganjoo, founder and CEO of ANRA. The platform offers a suite of advanced features for enterprise and service providers to monetize existing capabilities and drive innovative new services. By replacing or augmenting traditional methods, it dramatically reduces the costs, risks, and time-to-market while lowering implementation and operating costs for the entire supply chain.
MissionManager provides enterprise-grade features and capabilities for an unlimited number of users and missions. The platform streamlines workflows, assists in performance monitoring, and accelerates drone-enabled data collection and processing resulting in immediate and measurable cost savings across the enterprise.
I can issue multiple flight plans to pilots in the field for review and then simultaneously monitor their progress in real-time. The software prevents flying drones with overdue maintenance or with pilots that have expired licenses. The data we collect for our clients is processed and annotated on the same software, simplifying my business workflow while helping my team stay compliant and safe. I highly recommend it to anyone flying more than one mission per week, said Walter Lappert, CEO at Triad Drones.
 ANRA's platform allowed us to conduct safe and efficient building facade inspections.  Our drone flew a pre-programmed vertical flight path that ensured complete coverage of a high rise building, stated Mike Marrinan, COO for ASEC.
Fleet Management
Asset Tracking
The asset tracking feature enables the enterprise to maintain detailed records of drone type, capabilities, sensor payloads, battery health, and inventory, and maintenance and repair records.
Pilot Tracking
The pilot tracking module maintains operator profiles and qualifications while also serving as a tool for compliance and implementation of best practices. 
Data Synchronization
ANRA MissionManager enables program managers to synchronize workflows with a single tool to track drone equipment, maintenance, and pilot history in one centralized location. The platform allows for streamlined resource management and harmonization across various divisions across the enterprise while ensuring data protection.  
Flight Orchestration
Workflow Automation
Workflow Automation enables pilots to map missions, set waypoints, establish flight volumes, and determine flight patterns. MissionManager enables pilots to plan, deploy, and log each mission using workflow automation tools, including dynamic advisories such as weather and airspace constraints. These advanced automated flight profiles minimize the flight risk and ensure reliable, repeatable, and accurate data capture. 
Safety Checks
MissionManager features automated safety and compliance management capabilities, such as custom flight safety checklists to be completed and approved by a designated manager prior to takeoff. Program managers can also offer input into mission planning before sending pilots into the field. 
Automated Logbook
Flights and telemetry are logged in an automated logbook and can be saved as mission profiles to repeat the operation at a later time. Flight hours for drones and resources such as payload sensors and batteries are also automatically logged and archived.
In-Flight Operations
MissionManager comes with an extensive library of pre-loaded automated Mission Profiles to achieve automated linear and vertical paths such as facade inspection, survey, pipeline, and other critical infrastructure surveys.  Advanced mission profiles include columnar tower inspection, facade, line string, and guyed tower and freehand missions.  
The in-flight operations features allow for control of multiple simultaneous drone flights.  Live telemetry readings display the health status of each drone. 
While the drone is in-flight, using cloud-based connections, stakeholders in different locations can also view live, near real-time drone video feeds from their mobile devices and desktop consoles, as well as perform remote manipulation of onboard cameras.  
Data Collection and Analysis
Enterprises need to collect and store vast amounts of data to track the degradation of assets or classify the severity of weather impacted damage over time. MissionManager enables customers to capture, save, arrange, measure, and geolocate vast amounts of 2D and 3D post-processed datasets, and calculate measurements through powerful data processing and integration of third-party machine learning and artificial intelligence-based analytics engines into the workflow. 
UTM Integration 
ANRA MissionManager can also be easily integrated into ANRA's SmartSkiesâ"¢ UTM platform, enabling automated flight approvals, strategic deconfliction, sense and avoid capabilities for non-cooperative aircraft. The platform supports the integration of Remote Identification of drones using both network and broadcast-based technologies in line with the evolving industry standards.
Availability
MissionManager is available today. Visit www.flyanra.com to schedule a demonstration. 
About ANRA Technologies
ANRA Technologies, Inc. is a leading international provider of end-to-end drone operations and traffic management solutions for unmanned aircraft systems (UAS) operators and airspace managers. ANRA offers highly sophisticated capabilities as part of the SmartSkiesTM family for commercial UAS operations. The platforms have been rigorously tested and vetted by the world's foremost government aviation authorities and are operational today in multiple locations worldwide. ANRA participates in numerous standards development organizations, including Co-chair for ASTM International Committee F38 (UAS) for UTM and Remote ID, ANSI UAS Steering Committee, ISO Technical Committee 20/SC16 for UAS Standards, and ICAO Trust Framework Study Group. ANRA is also committed to furthering industry support for UTM as a national board member of the Association of Unmanned Vehicle Systems International (AUVSI).  ANRA CEO Amit Ganjoo is a Global UTM Association (GUTMA) board member and member of FAA's Drone Advisory Committee working group for UTM. ANRA Technologies, Inc. is headquartered in Washington DC with regional offices in London and New Delhi. Learn more by visiting www.flyanra.com