The top drone service provider rankings have been prepared by commercial drone market research and analytics company Drone Industry Insights.
Commercial drone market research and analytics company Drone Industry Insights (DRONEII) has released its 2020 rankings of the world's top drone service providers, and Terra Drone Corporation has moved up to the top on the list. Japan-based Terra Drone was ninth in 2018 before climbing to second in 2019.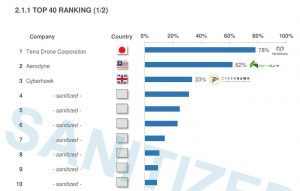 Terra Drone has provided inspection and survey services as well as delivery and security services using drones to help prevent the spread of COVID-19.
 
Looking ahead of the future, the company has been developing and testing unmanned traffic management (UTM) in collaboration with major corporations. Its portfolio company, Unifly has signed with Canada's civil air navigation service provider, NAV CANADA, to deliver it its UTM solution in the country.
 
In Europe, Terra Drone has expanded by making a large-scale investment in Skytools, a Dutch drone service company, thereby collaborating with other European group companies to provide higher-quality drone services to European private companies and government agencies.
 
Group company Terra Inspectioneering has been awarded a confined space inspection contract for the Netherlands and Belgium by Dutch multinational tank storage company Vopak. (For more details, click here.)
 
ATLAS C4EYE, a fixed-wing mini tactical drone developed by Terra Drone company C-Astral Aerospace, has successfully completed the 2020 Expeditionary Organic Tactical Airborne ISR Capability Set (EOTACS) evaluation conducted by the US Special Operations Command (USSOCOM).(For more details, click here.)
 
In South East Asia, Terra Drone Malaysia opened in June 2020, and Terra Drone Indonesia has grown significantly and completed many projects including pipeline monitoring and flare stack inspection for major energy companies including Chevron. The expansion in Indonesia has also seen new capabilities being launched including drone based Ground Penetrating Radar (GPR) and drone based LiDAR surveying within the Terra Drone developed Terra Lidar system.
Globally, Terra Drone services a large range of markets including Mining, Oil and Gas, Energy generation, Agriculture, Maritime, Security and Defence. In 2021, Terra Drone Group expects to further accelerate digital transformation with drones and will further expand its service area throughout the world.
 
If you want to support Terra Drone on its quest to generate aerial innovations that have a lasting impact on communities the world over, please contact info.en@terra-drone.co.jp
 
For more information about the company's activities, achievements, and news, follow Terra Drone on LinkedIn and Twitter handles.
About Terra Drone Corporation
Established in 2016, Terra Drone Corporation has quickly become one of the world's largest industrial drone solution companies employing over 550 drone industry professionals. The company's head office is located in Tokyo, Japan, and more than 25 branches are spread globally throughout Asia, Europe, Americas, Africa, and Oceania. Terra Drone provides innovative enterprise drone services for oil and gas, utilities, renewables, mining, construction, and GIS sectors, among others.
Previous investments include Unifly, which specializes in unmanned traffic management (UTM); C-Astral, which develops high-endurance fixed-wing UAVs; RoNik Inspectioneering, which provides wireless inspection services for confined spaces; and Ventus Geospatial, which has patented gas leak detection technology. Going forward, we will continue to invest in technology companies with cutting-edge solutions for drones.
For all the latest news and information about Terra Drone, visit the company's LinkedIn and Twitter handles.