November 18, 2015 " The worldwide GIS Software and solution provider, Supergeo Technologies, has just strengthened cooperation with its local partner in the Philippines, RASA surveying, which includes maintenance on current products and several new orders on SuperGIS Desktop.
Located in Metro Manila, RASA Surveying is a professional surveying corporation that provides various services within the geodetic profession. Since its establishment in 1994, this Philippine company has provided diversified surveying works, such as boundaries relocation, subdivision verification, route alignment and water depth measurement.
SuperGIS Desktop is a powerful tool that can offer solutions on various geospatial issues. It is an outstanding platform designed for visualizing, editing, converting and analyzing geospatial data. For surveying specialists, they can visibly find differences or errors on SuperGIS Desktop by overlaying two surveying results at the same time and then easily adjust data by using built-in editing tools. By using 3D analyst and spatial statistical analyst, users can conduct spatial interpolations to create simulated topography. Moreover, surveying professionals can gain extra advantages from spatial surface analysis tools in 3D analyst, which allows surveyors to calculate slopes, aspects and curves effortlessly and understand characteristics of the landform more comprehensively.
Learn more about the 3D analyst of SuperGIS Desktop: http://www.supergeotek.com/products_desktop_3D.aspx
RASA Surveying: http://www.rasasurvey.com/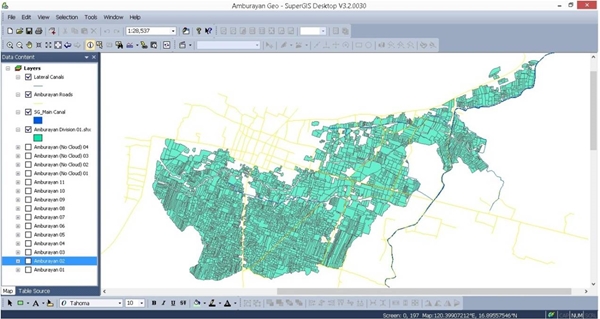 The irrigation system project supported by SuperGIS and RASA Surveying