New job postings in China decline 34%
Over 1.9 million jobs closed in October 2021
Over 3.9 million jobs open for recruitment globally
Travel and tourism sector leads active jobs growth
Even though there is an increase in hiring activity through the year, companies now seem to be taking stock of actual requirements. As a result, global new job postings dropped by 8% month-on-month (MoM) in October 2021, reveals GlobalData, a leading data and analytics company.
An analysis of GlobalData's Job Analytics Database reveals that the resurgence of COVID-19 and induced lockdowns seem to be impacting job postings in countries such as China where job postings took a 34% nosedive in October 2021. Higher job closures were reported for entry and junior-level jobs during the month.
Ajay Thalluri, Business Fundamentals Analyst at GlobalData, says: Global hiring activity was a tad low compared to the previous month. The resurgence of COVID-19 and the resultant lockdowns seem to have a direct bearing on job listings in China after several months of high. The country implemented strict lockdowns to curb the spread of COVID-19. Listings reduced across all sectors with entry, mid, and junior-level roles dropping significantly. In other regions, increased job closures suggest to higher placements.
Companies in the North America region based in Canada and the US reduced job postings but increased job closures. Similar trend is noted in the Europe region where countries such as Germany and the UK were at the forefront of job closures. However, other regions showed a mixed picture.
In the APAC region, job postings in China and India reduced, among others, but listings in Japan significantly increased. In the South and Central America (SCA) region, most countries showed a decline. In the Middle East and North Africa (MENA) region, job postings in countries such as Qatar increased.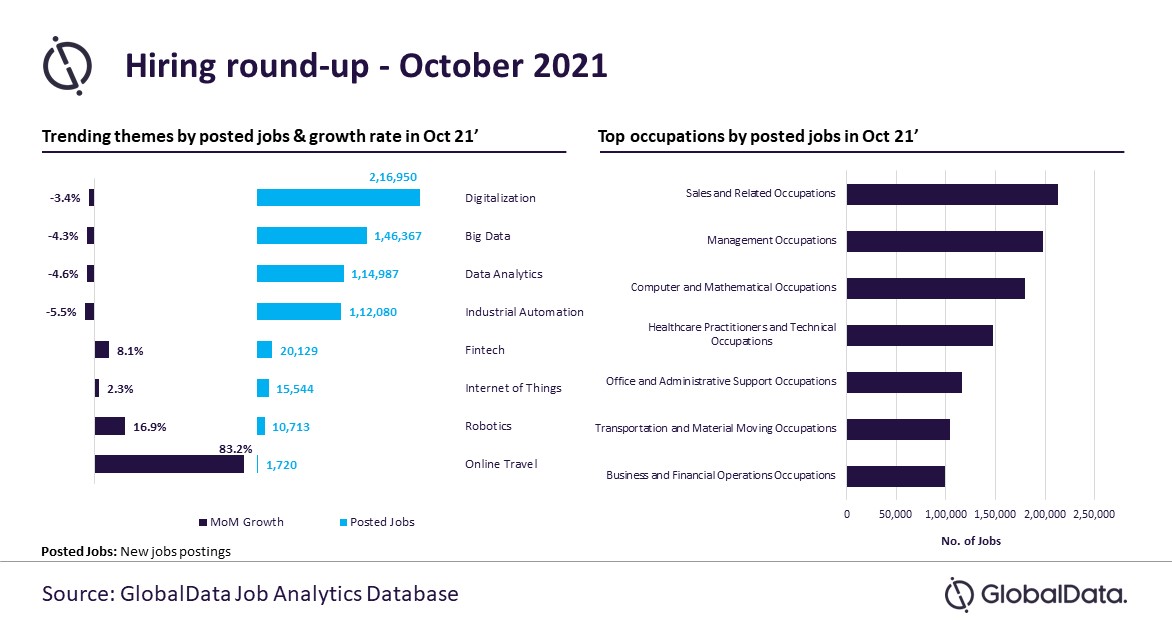 Though listings reduced globally, October 2021 was another month of recovery with over 3.9 million jobs open for recruitment globally at the end of the month. Companies' interventions such as referral and hiring bonuses, besides a slew of incentives, seem to nudge job applicants to apply for jobs.
The onset of seasonal hiring activity for holiday season 2021 with job postings for part-time and temporary roles is seeing an uptick. Job postings increased in October 2021 compared to September 2021 for seasonal hiring in the travel and tourism and transportation, infrastructure, and logistics sectors.
Mr Thalluri adds: Job postings for sales and related occupations continues to be the most listed and available roles. Interestingly, there seems to be a corelation between companies preparing for the upcoming holiday season and the increase in job postings in themes such as online travel, online payments, and digital therapeutics.
The likes of Pilot Flying J, Inc., FedEx Corp, United Parcel Services Inc, Wizz Air Holdings Plc, and Royal Mail Plc were among the top when it comes to job postings in transport and logistics sector. Additionally, travel and tourism companies in the US, Germany, India, France, and Australia increased hires during the month.
About GlobalData
4,000 of the world's largest companies, including over 70% of FTSE 100 and 60% of Fortune 100 companies, make more timely and better business decisions thanks to GlobalData's unique data, expert analysis and innovative solutions, all in one platform. GlobalData's mission is to help our clients decode the future to be more successful and innovative across a range of industries, including the healthcare, consumer, retail, technology, energy, financial and professional services sectors.